Description
Play the famous Gin Rummy card game either using a simulated opponent playing with high-level artificial intelligence or in multiplayer games with your friends (iOS only).
Very faithful to the original, all the rules are followed:
Played with a 52-card deck.
Maximum deadwood of 10 points.
Oklahoma Gin.
Straight Gin.
HD Graphics
Easy to learn, very fluid and rapid gameplay, includes animations for realistic atmosphere, with attractive design featuring two distinct graphic themes.
A very thorough game
Play against a simulated opponent with advanced artificial intelligence, with many customizable rules.
Play with your friends in local multiplayer mode through Wi-Fi or Bluetooth (iOS only).
Play as a pair on the same device, taking turns (iOS only).
Play online : Invite your friends or automatically find available players (iOS only).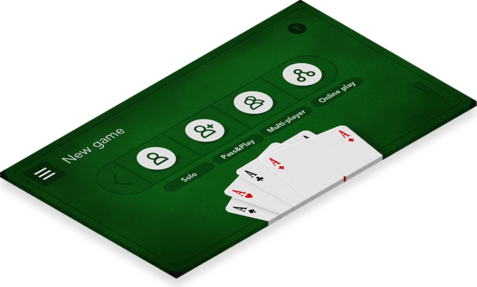 An high-level artificial intelligence
Your opponent is playing with high-level artificial intelligence, and know the main strategies of the Gin Rummy game. The game is then very realistic and offer a real challenge.

An highly customizable application
Many options on game rules and interface are available:
Number of points in a game.
Number of cards dealt to each player.
Points bonus for Gin, Big Gin and undercut.
Oklahoma Gin
Straight Gin
An application that will allow you to progress
A statistics section is included in the application, allowing you to monitor your performances. For beginners, a section explaining the rules of Gin Rummy is also integrated into the application.