Description
Play the Crazy Eights card game either using simulated opponents playing with high-level artificial intelligence or in multiplayer games with your friends (iOS only).
Very faithful to the original, all the rules are followed:
Next player draws 2 or 4 cards.
Skip the following player's turn.
Choice of suit.
Cancel a draw.
Reverse direction of play.
HD Graphics
Easy to learn, very fluid and rapid gameplay, includes animations for realistic atmosphere, with attractive design featuring two distinct graphic themes.
A very thorough game
Play against simulated opponents with advanced artificial intelligence, with many customizable rules.
Play with your friends in local multiplayer mode through Wi-Fi or Bluetooth (iOS only).
Play as a pair on the same device, taking turns (iOS only).
Play online : Invite your friends or automatically find available players (iOS only).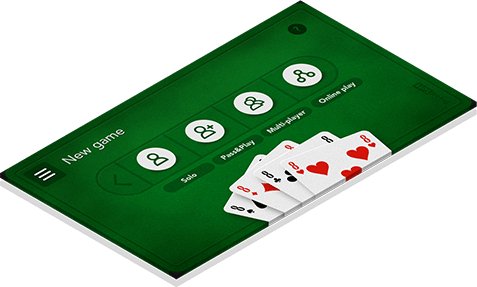 An high-level artificial intelligence
Your opponents are playing with high-level artificial intelligence, and know the main strategies of the Crazy Eights game. The game is then very realistic and offer a real challenge.

An highly customizable application
Many options on game rules and interface are available:
Several levels of artificial intelligence.
Customize the action of any card.
Number of cards dealt to each player.
Play with or without jokers.
Draw until being able to play.
And many others...
An application that will allow you to progress
A statistics section is included in the application, allowing you to monitor your performances. For beginners, a section explaining the rules of Crazy Eights is also integrated into the application.